Baby Boutique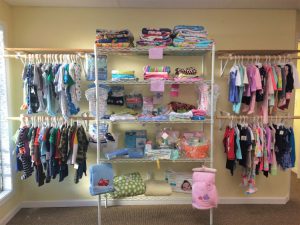 Our Incentive Program helps equip new moms and dads with many things they'll need to know before their baby arrives. This includes: prenatal care, labor and delivery, nutrition, breast feeding, and parenting classes, as well as Bible studies. Clients learn to prepare themselves for parenting and life skill responsibilities. While they learn they also earn "points" which they can use to earn baby items.
Because of our community, we have the opportunity to bless our clients who go through the program.
We gladly accept donations from the community but we do ask that the items be brand new or very gently used. Donations can be dropped off any time the center is open.

ITEMS WE LOVE:
• New or Gently Used Baby Clothes (size NB-4T)
• Diapers (newborn thru size 5)
• Wipes
• Baby bottles
• Baby toys
• Small baby items such as teething rings or pacifiers
• Diaper bags
• Breast Pumps (new only)
• Blankets/Crib Sheets/Bedding
• Towels/Bath Supplies
• Bottles/Cups/Bowls/Spoons/Bibs
• Layette Supplies
• Baby wash/shampoo/lotion
• Baby powder/diaper rash cream
• Changing Table
• Changing Pads
• Bassinet
• Bouncer
• Swing
• High Chair
• Stroller
• Pac'n'Play
• Car Seats (new only)
• Cribs (new only)
ITEMS WE CAN'T TAKE:
• Used car seats
• Used cribs
• Used breast pumps
• Items that are worn, ripped or dirty
• Used stuffed animals
• Most toys
• Used wash cloths & burp cloths
• Used diaper pails
GUYS & GIRLS AFTER SCHOOL CLUBS
Our weekly after-school clubs are positive peer support clubs designed to encourage and empower middle-school teens.  Our goal is to help young guys and girls think and plan for a successful future by helping them recognize that the choices they are making now will determine what kind of person they will become and what kind of future they will have.  They earn points for attending the clubs that allow them to "shop" at our store.   If you would like to donate to the store, here are some items they love:
Guys & Girls:
sport balls (soccer, basketball, football)
gift cards for coffee places or fast food
sport bags
earbuds
lanyards
Girls:
Big fluffy pillows
blankets
nail polish
Scented Lotion or body spray (like from bath & body)
colored pens
Guys:
Cards (regular playing cards, UNO or Pokemon cards)
Game Stop gift cards
XBox 360 remote controls.
If you have any questions about donations, please email us or call 509-882-1899 or 509-839-2000. Thank you to our churches and community for continuing to bless our clients with your generous donations. Schedule a time to stop by and see this beautiful boutique in person. We guarantee you will be blessed!