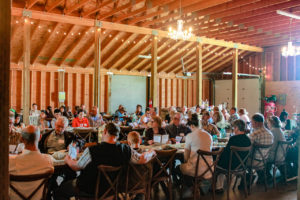 What does it take to run a thriving pregnancy center ministry? More than you might think! We recently held an appreciation dinner for our many faithful center volunteers, and when I pulled the list, do you know how many we have? Go ahead…guess! 76! My reaction when I see that number is—WOW, that's a lot of people! Without this army of volunteers, we'd struggle to maintain our standard of excellence. You might wonder, what do they all do? Allow me to shed some light on this wonderful group of people for you:
76 people make up our board of directors, medical director, consultants, nurses, mobile drivers, AWARE presenters, GIRLS & GUYS 180 club leaders, CARE program consultants, technology advisors, mailing ladies, data entry workers, repair & maintenance personnel and event planners.
SO much is accomplished by this group of people, often behind the scenes, but they are a vital piece to the success of LO. They invest their time in LO to honor God with the gifts He's given them and I'm blessed to know and work alongside them. To give you an idea of their impact, last year our volunteers gave 2,575 hours to accomplish God's work at LO!
And that's just a glimpse of what it takes to run this ministry! That number doesn't include the women who bake cookies for our 180 clubs, the people on our medical advisory team, the liaisons who promote events within their churches, or the countless number of people we call for help when random challenges arise (like discovering mold in our ceiling). AND there's you – each of you who supports LO through prayer and/or financial giving.
I try to remain faithful in sending thank-you cards, but it's never enough. I can't express how much every single person who supports LO is appreciated. So, if I've missed the opportunity to thank you personally, please know you are so appreciated!
When God's people come together, each contributing what they can, amazing things happen, "Just as a body, though one, has many parts, but all it's many parts form one body, so it is with Christ. Now you are the body of Christ, and each one of you is a part of it."  1 Cor. 12:12, 27
Together, we are doing great work! So far this year, LO has served 177 new people, provided 81 pregnancy tests, 31 ultrasounds and 45 STD appointments. We met 30 women who had a positive test and were at risk for choosing abortion and 27 of them chose life for their babies! The Gospel was presented 71 times with 28 professions of faith or rededications to Christ.
Please, take a moment, look at those numbers and picture them in your head…because of you, God is doing a mighty work in our valley!
Together for God's glory,
Melanie Smeenk, CEO