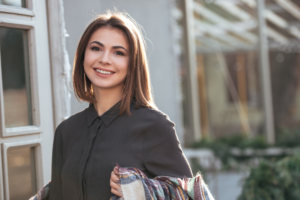 It was just another day at Life Options, staff were keeping up on the tasks at hand and ready to serve at any moment, when Rosalinda* walked in. Rosalinda had come to Life Options 5 years earlier with her first pregnancy, and she was one of consultant Megan's* first clients. The two of them had kept in touch, and Rosalinda had always held a special place in Megan's heart.  Now Rosalinda just "happened" to walk in during Megan's shift.
The two of them talked about Rosalinda's children and the challenges we all face in life. Megan offered encouragement while she listened, and they both enjoyed getting caught up with each other.
Megan remembered the first time they had met: Rosalinda was in an unstable relationship, living in a house with active drug use. She was pregnant for the first time. Although she had been excited to be pregnant, disaster struck when her partner left shortly after the baby was born. Young and alone, Rosalinda struggled to keep her life on track. She regularly attended classes at LO to help equip her as a new mom and to receive the things she needed for her baby. She always looked forward to her appointments and often stayed longer just to chat. LO had become like family to her.
A few years later, Rosalinda was pregnant again, this time with her fiancé. At that time, she was in a much healthier place in her life and looked forward to her growing family. She had come far since that first appointment at LO.
After they finished talking, Megan walked Rosalinda to the door and told her how happy she was to see her again. Rosalinda said, "I'm so grateful for you guys, and I will always be glad I came here. During my first pregnancy, I was afraid to come to LO because I knew you were Christians, and I was afraid you wouldn't accept me, or that you might try to take my baby away since I  lived in a meth house"… she paused for a minute, then continued: "Now I know what real Christians are like. You're not like other Christians I've met who are fake and judge people; you offer forgiveness and acceptance and I tell everyone how great you all are at this place."
Megan's heart was full at that moment, knowing that the trajectory of Rosalinda's life had been drastically impacted by the love she received.
At LO, we aren't here just to complete a transaction: we want transformation! You could say our motto is "Come as you are, but don't stay as you came."
All who walk through our doors, give us the opportunity to treat them like the valuable, unique individuals God created them to be.
Thank you for striving with us for transformation!
*Names changed for confidentiality.